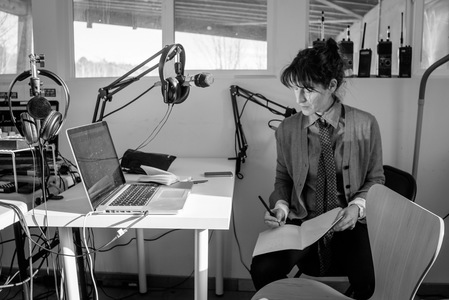 Suzanne Snider
is a writer, oral historian, and the founder/director of
Oral History Summer School
.
Her writing and audio projects have been published in The Guardian, The Believer, The Washington Post, Legal Affairs, and the Oakland Standard, as well as several anthologies and artist catalogs. After receiving an MFA in nonfiction from Columbia University (2003) as a Hertog Fellow, she pseudonymously published a book with Grove Press, in 2004 (reprinted by Random House Japan 2005). She received a BA from Wesleyan University in English and Dance.
She has worked on numerous oral history and documentary projects as a consultant, trainer, and interviewer: for the New York Academy of Medicine, HBO Productions, the Center for Reproductive Rights, MoMA, Columbia University's Center for Oral History, and the Prison Public Memory Project, among others. Her own oral history projects have addressed disappearing labor forces, rehabilitative medicine, parapsychology, and feminist presses. She is especially interested in designing social, participatory experiences around audio archives.
Her work has been supported through fellowships from the Yaddo Corporation, the MacDowell Colony, the Radcliffe Institute/Schlesinger Library, and the UCross Foundation Center.
She serves on the advisory board of the Judd Foundation Oral History Project and of the Happy Ending Music & Reading Series.
She has taught at Columbia University, New York University, and the School of New Resources. Currently, she teaches at the New School University, and is completing a book about a divided commune in Middle America.
(photo by Walter Hergt)